Post by Deleted on Nov 10, 2011 0:15:07 GMT -5
Hello, I was given a link here from a Member of Scale Firehouse.
I have 4 Pace cars built.(Some may need to be re-built) and SEVERAL In progress.
as well as a few I have not even started.
Here are the 4 built. I need to take pictures of the In-Progress builds.
MPC 78 Vette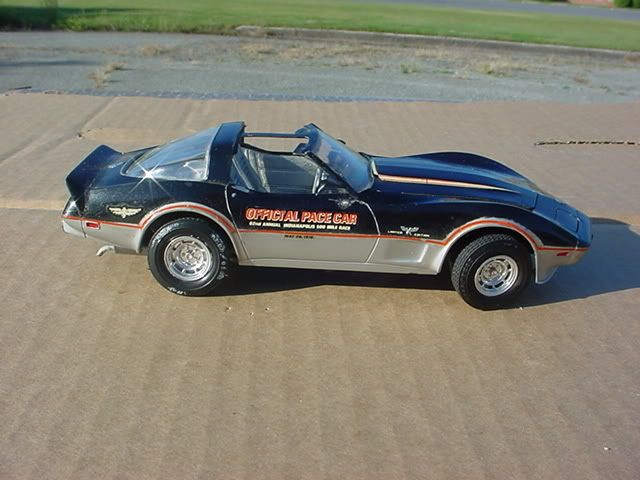 MPC 79 Mustang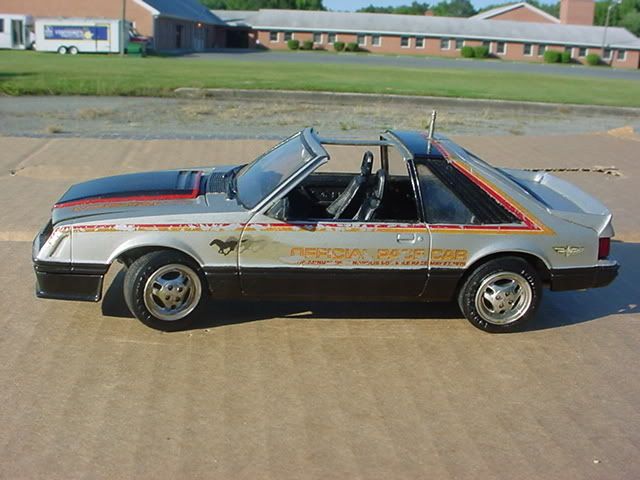 MPC 80 Trans Am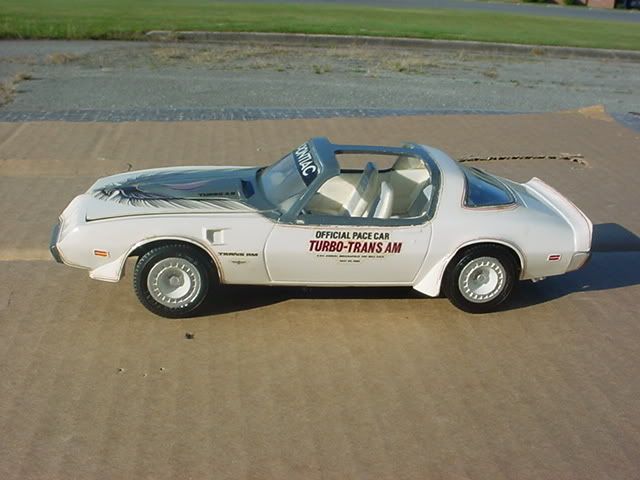 MPC 82 Camaro (there use to be a full size sitting behind a garage a few years ago, Wish I had gone to ask about it.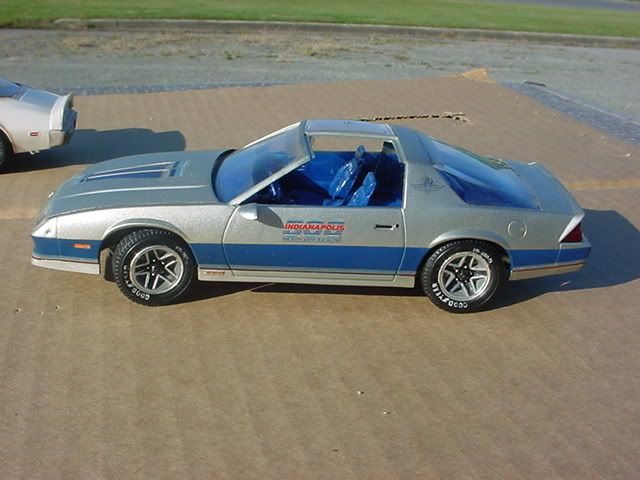 These 4 need Aero-Dynic Mini lightbars to be complete. The Vette & Mustang need to be restored.
In-Progress builds include;
AMT 59 Buick Invicta Hardtop converted into a convertible
I had to replace the windshield frame with one from the Rev/Mono 59 Impala. I am also looking at replacing the interior.
I added Electra 225 side trim.
Miller Memorabilia 60 Old 98 Convertible. Boot cover, grill, bumpers etc cast in place on the body. I replaced the broken windshield frame on this one too. and am using the 59 Impala's chassis.
I did have to stretch it to fit.
Original AMT 61 T-Bird. I also started to convert a Modern tool 62 into a 61.
Jo-Han 62 Studebaker Lark convertible, I added to the trim to simulate a Daytona.
Revell/Monogram 64 Mustang.
AMT 67 Camaro Coupe converted to convert with MPC/AMT 69 Windshield frame.
MPC/AMT & Revell 69 Camaro's
Jo-Han 70 442/W-30 (I plan to bash this with a Rev 72 H/O or base Cutlass convertible
Rev 72 H/O convertible. All I have to do here is add the Cady decals
Jo-Han 73?? Eldorado I am not sure the one I have IS a 73, but will be close enough for me, as I do not want to pay $50-100.oo for an Original kit or Promo only to have to cut the top off.
Jo-Han 75 Olds Cutlass Promo kit. I am converting this to a 74, and making the Open top/Targa Pacer out of it, not a Closed top Pace replica.
I have 2 of the Monogram/Rev 1/24 78 vette to build
3 Parts lots & 1 Complete 95 vette, the 98 Vette
93 Camaro, 94 Cobra, 53 Ford Vic, 55 Bel Air,
2 of the 92 Stealth Official car another unbuilt original MPC 78 Vette
Jo-Han 31 Cadillac Cabriolet This one needs to be converted from a V-16 to a V-12, the side spares removed and a single spare mounted to the rear.
MPC/AMT 32 Chyrsler LeBaron Pheaton. I have the chrome tree from a Testor's/Italeri 33 for this one.
I have the 92 Viper Promo and a black Stealth Promo both with Pace car decals.
Question for anyone who knows, Is the 51 Chvevy convertible body close to the 48??
I have a Galaxie Limited 48 Sedan Delivery, and was thinking of grafting the front clip to an AMT 51 Chevy convertible body
I have almost all of the Cady decals sets save the 92/96 Viper and 75 Buick, so Can do most of these. I just need some place to work!